Syria: Russia announces brief halt in Aleppo action
Comments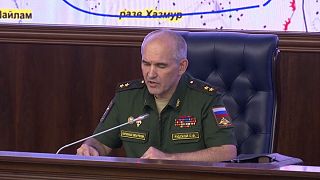 Russian forces in Syria have declared a three-hour daily halt to air strikes on Aleppo in order to let vital humanitarian aid to get in.
But the UN has said the window is too short to help trapped civilians. It has demanded at least 48 hours per week. For now, it is unclear if rebel groups will also uphold the temporary ceasefire.
Sergey Rudskoy, a spokesperson for Russia's Defence Ministry said: "We support the UN's proposition to organise joint supervision of the delivery of humanitarian aid to Aleppo over the Castello road. Our military experts continue to work on this together with representatives from the UN and our American colleagues."
Reports from Aleppo said that the ceasefire had not started when it was supposed to.
Fighting in Aleppo persists despite Russia ceasefire announcement: rebels https://t.co/1sVimN1i5Dpic.twitter.com/oOGeTc4rvj

— Reuters Top News (@Reuters) August 11, 2016
UN humanitarian adviser Jan Egeland said that a 48-hour pause was required to ensure safe deliveries of relief supplies, adding: "What is the new and positive thing today is that the Russian Federation said they would like to sit down with us and the other co-chair (the United States) to discuss how the UN proposal could be implemented. We are hopeful that will lead to something."
Aleppo, Syria's most populous city before the war, continues to be the subject of an intense battle between rebels and Russian-backed Syrian government forces.
The brief pause in Moscow's aerial action comes on top of reports of a suspected chlorine gas attack in the besieged city.
UN Special Envoy for Syria Staffan de Mistura said the reports are being investigated. "There is a lot of evidence that it actually did take place," he told reporters, adding that if confirmed the attack would amount to a war crime.
At least four people were killed and many others injured, medics say. The toxic chemicals are thought to have been dropped from helicopters in barrel bombs.
Earlier, the last remaining doctors in Aleppo wrote a letter to US President Barack Obama urging him to impose a no-fly zone over the city to stop the bombardment.