Wildfires in Provence in southern France force thousands to evacuate homes
Comments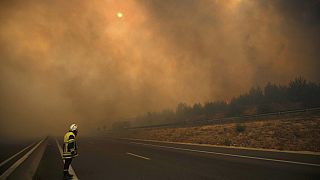 Around 2000 firefighters are battling out-of-control wildfires in Provence in the south of France which broke out on Wednesday.
Four firemen have been injured, three of them seriously.
More than 10,000 people have been evacuated from their homes in the Rhone river delta area.
There are concerns that one of the blazes is close to Marseille, where several petrochemical plants are located.
The area has been hit by a drought over the past few weeks and the fires have spread rapidly across 2,000 hectares, fanned by strong winds and burning everything in their way.
In the Canary Islands, a helicopter fighting a massive wildfire has crashed. The two crew members were able to escape unhurt.
The blaze is believed to have been started by a German man who set light to toilet paper. The fire has already destroyed 7 percent of the island of La Palma.