Michael Phelps wins 21st gold medal in Day 4 of Rio Olympics
Comments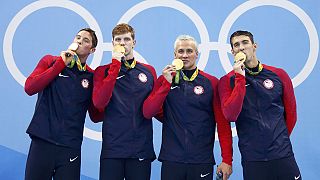 Michael Phelps has won his 20th Olympic gold medal in the 200 metres butterfly on Day 4 of the Rio Olympics. Japan's Masato Sakai took silver with Hungary's Tamas Kenderesi winning bronze.
Then another gold medal for Phelps in the men's 4×200 metre freestyle relay. The US won, with Phelps swimming the anchorleg. Britain won the silver medal, and Japan bronze.
The women's Olympic 200 metres freestyle was won with a victory by the United States' Katie Ledecky giving her a second individual gold of the Games.
Sarah Sjostrom of Sweden took silver while Emma McKeon of Australia won bronze.
Hungary's Katinka Hosszu won her third Olympic gold medal in four days in the women's 200m individual medley. Britain's Siobhan-Marie O'Connor took the silver medal and Maya DiRado of the United States won bronze.