Russian and Turkish presidents meet to discuss restoring relations
Comments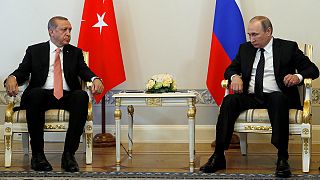 Russian President Vladimir Putin has been meeting with his Turkish counterpart Recep Tayyip Erdogan in Saint Petersburg.
The conference is intended to end a period of high tension following the Turkish downing of a Russian fighter jet near the Syrian border last November in which one Russian pilot was killed.
Russia imposed sanctions on Turkey. President Erdogan later apologised.
President Putin has expressed a wish for a restoration of relations and economic ties with Turkey. He said he is very happy to have this opportunity.
President Erdogan said that Turkey was entering a "very different period" in relations with Russia, and that solidarity between the two countries would help the resolution of regional problems.
[no comment live] Putin meets Erdogan in St Petersburg https://t.co/8vjdI2LkoL

— no comment TV (@nocomment) August 9, 2016