The Olympic Refugee Team: A beacon of hope in Rio
Comments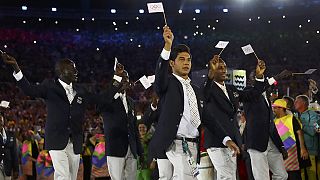 For the first time ever, an entire refugee team made up of athletes of different nationalities is taking part in the Olympics.
We will represent all refugees around the world

Syrian swimmer, Olympic Refugee Team
The team's appearance in the competitors' parade was one of the highlights of Friday's Opening Ceremony in Rio.
From South Sudan, Syria, the Democratic Republic of Congo and Ethiopia, all had to flee their countries in search of protection – and all have a burning ambition to succeed in their chosen sport.
Like others in the 10-strong team, Rami Anis, a swimmer from Syria, will compete under the Olympic flag.
After surviving a harrowing escape to Europe, a #Syrian#refugee swimmer makes it to the #Olympics in #Rio2016: https://t.co/sQeBpFFgfW

— World Bank MENA (@WorldBankMENA) 21 juillet 2016
"This is a great opportunity," he told a news conference last week.
"Every athlete's dream is to compete in the Rio Games. Since we were children, we have dreamt of taking part in the Olympics. Each one of us dreamt we could compete under our national flag but unfortunately war has prevented us from doing that. We are very proud to be part of the refugee team. We will represent all refugees around the world. My heart and soul will be with Syria. And God willing when the Tokyo Games come, there won't be any refugees left and all the athletes here will compete for their own countries. There is nothing more precious than your homeland."
Millions of refugees are housed in camps in countries across the world, having escaped dozens of wars or armed conflicts. The IOC's first refugee team is aimed at highlighting their plight.
The athletes, six men and four women, will compete in the sports of swimming, judo and athletics.
Rose from South Sudan will lead #TeamRefugees in #Rio2016 Olympic opening ceremony https://t.co/KYb5rTl0zXpic.twitter.com/11qNsAC7WO

— UN Refugee Agency (@Refugees) 5 août 2016
This team is taking part in the Olympics for the first time ever refugeesolympic</a> <a href="https://twitter.com/hashtag/refugeeolympicteam?src=hash">#refugeeolympicteam</a> <a href="https://twitter.com/hashtag/FF?src=hash">#FF</a> <a href="https://t.co/V85FlSzuaT">pic.twitter.com/V85FlSzuaT</a></p>&mdash; Olympics (Olympics) 29 juillet 2016
First ever @RefugeesOlympic set to 'give hope' in Rio #Olympicspic.twitter.com/i4SCyTBnzl

— Olympic Channel (@olympicchannel) 3 août 2016