Police and protesters clash in Rio anti-Olympic showdown
Comments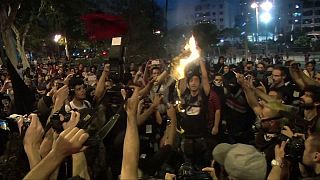 Protesters set fire to the Brazilian flag in Rio ahead of the Olympic Opening Ceremony on Friday, angry at a spectacle they feel has nothing to do with them.
Brazil is crying blood...this is war!
The $12 billion dollar price tag to organise the Games has aggrieved many in one of the world's most unequal societies. Much of Rio's population couldn't even afford to attend.
Demonstrators denounced corruption and overspending on the Games, amid Brazil's worst economic downturn in decades.
And as the country staged its most intense security operation ever, police used stun grenades against a few hundred anti-Olympic protesters.
Rio police fire tear gas at protesters outside Maracana stadium ahead of Olympics my Wapo story from earlier https://t.co/B0kqVBdHvk

— Dom Phillips (@domphillips) 6 août 2016
Cops disperse and tear gas is shot during an anti-Olympic protest about a mile from Maracanã. pic.twitter.com/qdq0M9uqrp

— Angela Almeida (@almeidavore) 5 août 2016
A demonstrator identifying himself as 'Spiderman' said: "Brazil is crying blood. People are dying. The bombs they set off there..this is war. We are in Iraq. This is Iraq."
But as tear gas filled the air, others in Rio dubbed those burning Brazilian flags "idiots", saying they had gone too far.
Shop owner Antoni Carlos Figueiredo said that the Olympics are important for Brazil and for Rio de Janeiro.
"No one who likes Brazil would do something like that," he complained.
"There are many ways to protest. This is not the right way and it is sad that it is like this that we are hosting people from around the world.
Earlier on Friday, thousands marched alongside Copacabana beach.
It was a show of support for Dilma Rousseff, Brazil's suspended leader, who is now facing an impeachment trial. But the rally was principally a protest against interim President Michel Temer, who was also jeered by the crowd at the opening ceremony.