Are you safe in Rio? Foreign visitors speak out
Comments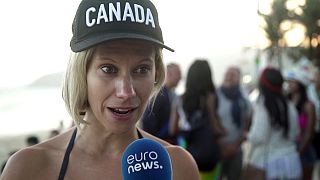 Up to half a million foreign visitors are descending on Rio for the Olympics, despite concerns over crime, pollution, the Zika virus and the threat of terrorism.
I came here and it is good
They are being protected by 85,000 police and soldiers, more than double the number of security personnel at the 2012 Games in London.
"So far we are really impressed with the security that's around," said one young woman, wearing a 'Canada' baseball cap.
"There is quite a bit of military presence but it makes you feel more comfortable."
"When (I was) in China, someone told me that Rio is not safe. But I came here and it is good. The people here are friendly and hot," a Chinese tourist added.
Sensory assault: What to expect when visiting Rio (or what you're missing, if not) https://t.co/pB2YYF1NsKpic.twitter.com/3vhVKYyrRo

— CTV News (@CTVNews) 5 août 2016
But Rio does have a reputation for crime and tourists can find themselves on the receiving end.
It is also a city of gaping inequality, with the poor packed into hillside shanty towns or favelas – kept out of sight, according to a Brazilian man who spoke to euronews on the streets of Rio.
"We have got the Olympics today. Nearby we have a favela but they simply put panels up to hide it and behind that all sorts of atrocities are happening and visitors can't see it," he said.
Our correspondent in Rio, Rafael Batista, said: "The opening of the Games was attended by less than half the number of leaders who were at the London Olympics in 2012. But in other respects, these are historic Olympics, with record numbers of athletes and countries taking part."