Birthday party blaze at French bar leaves 13 dead
Comments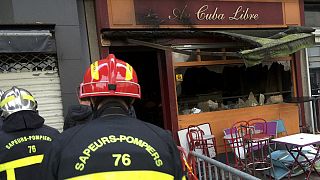 France is in shock after 13 people died and six more were injured when fire ripped through a bar in the northern city of Rouen, turning birthday celebrations to tragedy.
A group of 16-25 year-olds was celebrating in the basement of the Cuba Libre bar at a private party on Friday night.
The person bringing the birthday cake downstairs tripped, sending lit candles onto the walls and ceiling.
#France#rouen fire at least 13 dead in birthday disaster at Cuba Libre bar Photo by @alixmataepic.twitter.com/5Oi9FhRy84

— AFP Photo Department (@AFPphoto) 6 août 2016
A woman outside the bar who witnessed the tragedy said:
"I told my friend, let's get a spot on the terrace. I had started to sit down when …pff…suddenly everything went up. We saw the smoke and the flames, the chairs flew up, the window. We were afraid so we moved away."
#UPDATE At least 13 killed, 6 injured in France birthday party fire https://t.co/k7y6E5njBd#Rouen

— AFP news agency (@AFP) 6 août 2016
The fire took hold rapidly and soundproofing material inside the basement released toxic gas.
An investigation is underway into the blaze, France's deadliest in a decade.
One of those hurt is said to have 90 percent burns.
French Prime Minister Manuel Valls was among political leaders taking to Twitter to express their grief.
"Deep sadness faced with the tragedy which cut short 13 young lives. Compassion and support to the families affected," he said.
Incendie grave à Rouen : profonde tristesse face à la tragédie qui a fauché 13 jeunes vies. Compassion et soutien aux familles éprouvées.

— Manuel Valls (@manuelvalls) 6 août 2016
It is another tragedy for Rouen, which last week buried a priest killed in his own church in an Islamist terror attack.