Thousands turn out for funeral of murdered French priest
Comments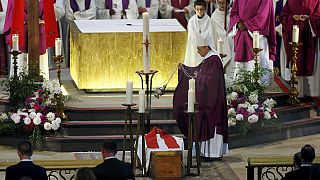 Thousands of mourners on Monday attended the funeral mass of the Catholic priest murdered in his own church by Islamic extremists.
Eighty five-year-old Jaques Hamel, had his throat cut at the altar of his local church in Saint-Etienne-du-Rouvray by two 19 year old men who had pledged allegiance to Islamic State.
Mourners gathered in Rouen Cathedral amid tight security. Those unable to fit in the cathedral stood outside in the rain. In a show of solidarity, Muslims, Jews and those of no religion came to pay their respects.
One mourner described here reasons for attending: "I'm not Catholic, I'm not religious, I'm an atheist, but I found it was really. I'm here as an act against terrorism, of rebellion."
Another said: "It's important for me to be here as a Muslim citizen. It's important to be here, staying together next to the faithful and to my compatriots, take communion together."
Others had a more personal link to the priest: "I knew the priest a little when I lived in Saint-Etienne-du-Rouvray and I was very touched and I think this is an unacceptable act, to harm a being who gives good to others," said one woman.
A state of emergency has now been extended until February 2017 giving police have greater powers to pursue suspected extremists.