Venezuela-Colombia discuss full border opening
Comments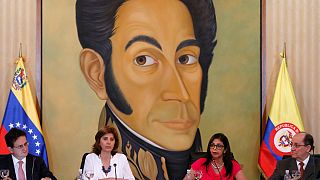 The foreign ministers of Venezuela and Colombia have met to discuss moves to open up their joint border, a year after Caracas closed crossings in a crackdown on smuggling.
"We have already agreed on preliminary actions to create the right environment for a progressive, gradual opening of the border," Venezuelan Foreign Minister Delcy Rodriguez told reporters, standing next to her Colombian counterpart, Maria Angela Holguin.
"We have also been looking at the causes of the problems that have emerged there."
Recent temporary border openings have seen tens of thousands of Venezuelans stream into Colombia to buy items scarce in their own country, which is facing an unprecedented economic crisis.
Venezuelans are so desperate they are swarming over the border to buy food https://t.co/wBORKpkVSC

— The Independent (@Independent) 26 juillet 2016
Opponents are seeking a recall referendum that could oust Venezuela's President Nicolas Maduro, claiming his socialist government is to blame for the mess. He puts it down to the fall in oil prices.
Maduro was also present at Thursday's foreign ministers' meeting in Caracas.