Trump lashes out as rivals rally
Comments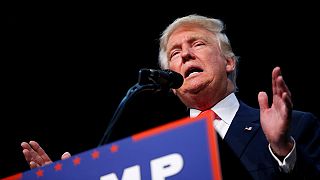 As Donald Trump continues to lash out at his long list of rivals rumours of a Republican plot to intervene in his campaign begin to surface.
It has been reported that groups of wealthy party members may rally behind Hillary Clinton's bid, in order to prevent a Trump presidency.
They are reported to have been privately courting prominent peers to join them in backing Democrat Clinton's campaign.
Our incompetent Secretary of State, Hillary Clinton, was the one who started talks to give 400 million dollars, in cash, to Iran. Scandal!

— Donald J. Trump (@realDonaldTrump) August 3, 2016
His latest revelation that rival Clinton was the founder of ISIS is one of a number of personal attacks that he has launched against the democratic candidate.
While the man with no name Clint Eastwood spoke out in praise of the Republican candidate's ability to speak his mind, many prominent peers are not quite so sympathetic to the billionaire real-estate mogul's point of view.
"There is no doubt in my mind that Donald Trump is unqualified and unfit to be Commander-in-Chief." —Hillary

— Hillary Clinton (@HillaryClinton) August 3, 2016
Republican efforts to muster support for Clinton are yet another blow in a though week for Trump.