Donald Trump: the rebellious Republican
Comments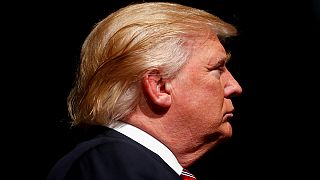 Donald Trump's campaign positions have angered minority groups, liberals, Democrats and increasingly those within his own party, the Republicans. Positions described as racist, divisive and callous.
He recently sparked criticism over his mocking of the mother of a Muslim soldier killed in Iraq.
Ghazala Khan stood silently next to her husband as he criticised Trump in a speech at the Democratic Convention.
"If you look at his wife, she was standing there. She had nothing to say. She probably – maybe she wasn't allowed to have anything to say," Trump told US television.
The billionaire businessman kicked off his campaign last year saying Mexico was sending rapists and drug dealers across the US border – and proposed putting up a wall to stop them.
"When Mexico sends its people, they're not sending their best. They're not sending you; they're not sending you," he said.
"They're sending people that have lots of problems and they're bringing those problems with us."
Trump has also proposed re-opening dialogue with North Korean leader Kim Jong-un – and putting pressure on China to help.
"I would speak to him, I would have no problems speaking to him," Trump said.
"At the same time I would put a lot of pressure on China because economically we have tremendous power over China. China can solve that problem with one meeting or one phone call."
Trump's called for a temporary ban on Muslims entering America – and has had a spat with the Pope, who questioned his Christianity.
"If and when the Vatican is attacked by ISIS, which as everyone knows is ISIS' ultimate trophy, I can promise you that the Pope would have only wished and prayed that Donald Trump would have been president," he said in a speech.
Former reality TV star Trump has a thick skin and has won support from white, blue-collar workers who feel ignored by the political establishment.
Recent polling puts Clinton four-and-a-half percentage points ahead of him.