Olympic torch arrives in Rio de Janeiro
Comments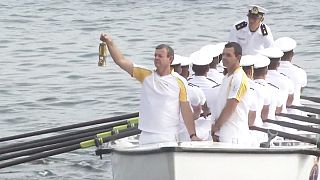 The Olympic torch has arrived in Rio de Janeiro ahead of the 2016 Games. The symbol of the prestigious event has been carried through more than 300 cities by over 12,000 individuals, including athletes and celebrities.
"The Olympic Movement has long-lasting values which our citizens need to take into consideration throughout the competition," explained the mayor of Rio Eduardo Paes.
"The Games represent the ideal world we are all looking for deep down. A peaceful world where different countries, religions and beliefs are respected."
Eduardo Paes recently declared a holiday for Thursday to ensure a smooth passage for the torch. It is the fourth holiday the 46-year-old has scheduled to clear streets during the Games.
The torch will slowly make its way to the Maracana Stadium for the opening ceremony, which takes place on Friday night.
[no comment live] #Rio2016: The #OlympicFlame arrives in Rio https://t.co/3fItwc7Dfj

— no comment TV (@nocomment) August 3, 2016