German leaders honour victims of Munich massacre
Comments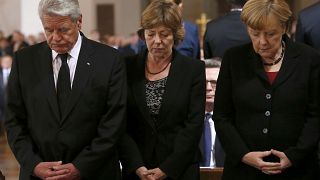 German Chancellor Angela Merkel and President Joachim Gauck joined mourners for a multi-faith service at Munich's Frauenkirche cathedral on Sunday, just over a week after a teenage gunman shot nine people dead in the city.
They will not force us to hate like they hate

German President
A memorial service was also held in the Bavarian state parliament.
And in a nation reeling after a string of attacks in the last half of July, two of them claimed by ISIL, Gauck pledged that Germany would stand strong.
"There is one thing we will not give those who want to make our home a place of fear and horror – the assailants and gunmen and terrorists – we won't give them our submission," Gauck said.
"They will not force us to hate like they hate. They will not keep us in the captivity of perpetual fear because we will stay where we are – a humane, united community."
Critics of Merkel have blamed the attacks on her open-door refugee policy, under which over a million migrants, many fleeing war in Afghanistan, Syria and Iraq, entered Germany in the past year.
Merkel, who attended Sunday's memorial but has faced media criticism for not visiting the attack scenes, set out a nine-point plan on Thursday to respond to the attacks, including an early warning system for the radicalisation of refugees.
President #Gauck and Chancellor #Merkel mourn the victims of the #MunichShooting during memorial service in #Munich. pic.twitter.com/1tOauD4ohP

— GermanForeignOffice (@GermanyDiplo) 31 juillet 2016
There are no signs of Islamic extremism in the Munich massacre.
The 18-year-old German-Iranian shooter was mentally ill, an avid player of violent video games and obsessed with mass killings.
The gunman's father told the Bild am Sonntag weekly newspaper that he and his wife had since received death threats: "Our life in Munich is done," he said.