Bavaria's premier rejects Merkel's 'we can do this' refugee mantra
Comments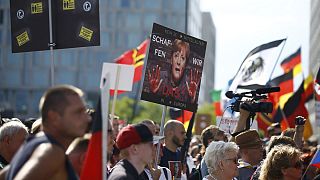 Around 800 right-wing protesters have gathered in Berlin to vent their anger over Angela Merkel's open-door refugee policy.
The problem-solving approaches we have are unsatisfactory
It was the third rally of its kind, although the number of people taking part is falling.
There were also counter-protesters, with about 700 left wing demonstrators voicing their opposition to the anti-immigration rally.
The action came as Bavaria's premier, Horst Seehofer, also took aim at Merkel over her "we can do this" refugee mantra.
"I would like to express a personal opinion about the phrase 'we can do that' which has often been quoted. I can't make that sentence on my own, not even with the best will in the world," he said.
"The situation is too problematic for this. And the problem-solving approaches we have are unsatisfactory."
Reuters: Bavaria leader of Christian Social Union Horst Seehofer rejects Merkel's 'we can do this' refugee mantra https://t.co/2YoPT22K5N

— David Lee (@israeli101) 30 July 2016
The comments from Seehofer, whose Christian Social Union is the Bavarian sister party of Merkel's conservatives, exacerbate the chancellor's difficulty in standing by her policy and which risks undermining her popularity before federal elections next year.
Bavaria has bore the brunt of recent attacks in Germany. Fifteen people have been killed in all, including four assailants, and dozens have been injured.
Two of the attackers are said to have had links to Islamist militancy.
More than a million migrants have entered Germany in the past year, many fleeing war in Afghanistan, Syria and Iraq.