One of world's oldest banks fares worst in EBA stress tests
Comments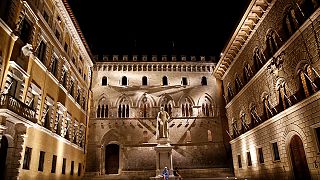 One of the world's oldest banks has fared worst in the European Banking Authority's latest stress tests.
Italian people have very good habits, economically.

Pensioner
Italy's Monte dei Paschi di Siena announced it had secured an eleventh-hour rescue package shortly before it was revealed to be the weakest following a health check of the European Union's 51 biggest banks.
Economist Giuseppe Di Taranto works at the Faculty of Economics at LUISS University. He said the outcome of the assessment was not worrying: "We cannot deny that Monte dei Paschi di Siena has difficulties. However, it's a periodic problem, not a structural or severe systemic one."
These are the third such tests in the bloc since tax payers were forced to bail out lenders during the 2007-09 financial crisis.
There was no judgement of 'pass' or 'fail', but pronouncements of 'healthy' for Italian banks in general provoked mixed reactions from local residents.
"I am not really worried about our banks because, you see, the Italian people have very good habits, economically. So everybody is always trying to put some little thing apart," said pensioner Fulvio.
However, Rome resident Lucrezia was more concerned. "There is no way ahead," she said. "People are not investing and clearly if they are not given help by the banks, and they can't get by on their own, the crisis increases."
The UK's Royal Bank of Scotland Group and Germany's Deutsche Bank also performed poorly in relation to other institutions.