Looking back at the Olympics 1992-1996
Comments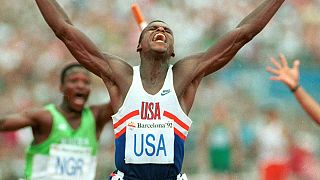 BARCELONA 1992 A changed world boycotts Olympic boycotts
Politically, much had changed in the world between 1988 and 1992. The Soviet bloc had collapsed dominant Olympic countries the USSR and East Germany no longer existed and apartheid had ended in South Africa. For the first time in 20 years, there were no boycotts of the Olympics.
The Games were largely free of controversy and the general atmosphere of friendship and the application of true Olympic values provided some touching emotional moments: a recording of Freddie Mercury and Montserrat Caballe was played at the opening ceremony, eight months after Mercury's death; in the final of the women's 10,000 metres, Ethiopian winner Derartu Tulu waited at the finish line for her white South African counterpart and the two went hand in hand for a victory lap that became a symbol of the post-apartheid Africa; Britain's Derek Redmond pulled a hamstring in the 400 metres but was helped, in agony and in tears, to the finish line by his father.
One of the main attractions of the Barcelona Games was the men's basketball, which had just opened up to professionals. The USA sent its "Dream Team" which included Magic Johnson, Michael Jordan and Larry Bird, and which would take the Gold medal with great style and much ease.
Derek Redmond

Dream team

Derartu Tulu

Freddie Mercury

ATLANTA 1996 Games become too commercial for some tastes
The Atlanta Games got off to an emotional start when the Olympic flame was lit by 1960 Boxing heavyweight Gold winner and arguably "The Greatest" of all time, Mohammed Ali. Among the stars of track and field were 100 metre winner and world record setter Donovan Bailey of Canada, as well as Michael Johnson and Marie-Jose Perec. American Johnson and Perec of France both won Gold in the 200 and 400 metres.
Johnson even set a barnstorming world record in the 200 metres. But for many the Games were spoilt by what went on away from the actual sporting spectacle. A week into the Games a bomb went off at the Centennial Olympic Park, causing the death of two people and injuring more than 100 others. Had it not been for a vigilant police officer who found the bomb and managed to evacuate many people for the area, the death toll could have been much worse.
An American far-right fanatic is currently serving a life sentence for the bombing. The Atlanta Games were also criticised, in particular by the head of the International Olympic Committee, for being too commercial, with certain sponsors such as Coca Cola enjoying virtual monopolies in Olympic venues. IOC president Juan Antonio Samaranch declined to call Atlanta "the best Games ever" at the closing ceremony, a declaration that had until then become something of a tradition.
Ali lighting flame

Perec 400m

Johnson 200m world record