Democrats tip their hats to their nominee
Comments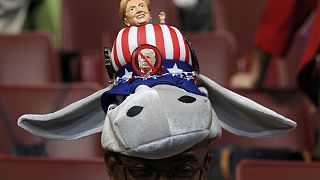 Delegates at the Democratic National Convention on Tuesday (July 27) participated in the long-standing tradition of sporting eye-catching novelty hats on the convention floor.
As Hillary Clinton became the first woman presidential nominee of a major American party, her supporters decked their hats out in Hillary pins and ribbons, and novelty toys and knick-knacks.
A delegate from Louisiana sported a decorated patriotic hat featuring a donkey wearing its own little Hillary Clinton hat, along with toy alligators, shrimp and crawfish.