Israel kills Hamas fighter it holds responsible for rabbi's murder
Comments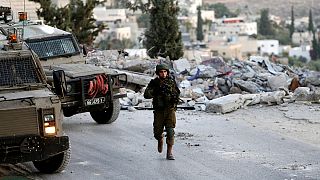 Israel says it has killed the Hamas fighter responsible for an ambush earlier this month in which a rabbi was shot dead.
Video released by the Israeli military shows an overnight raid in the occupied West Bank as forces targeted a house where several suspects were believed to be hiding.
Residents in the Palestinian village of Surif near the city of Hebron reported lengthy exchanges of fire between Israeli forces and gunmen.
One said the military surrounded the village for eight hours and cut off the electricity.
The house targeted and damaged during the fighting, was then demolished by an Israeli bulldozer.
Hamas identified the man who died in the raid as Mohammad al-Fakih, saying he was a member of its armed wing.
Israeli forces also reportedly arrested three people as well as killing the man they hold responsible for the rabbi's murder.
Miki Mark, a 48-year-old father of ten, was killed in the drive-by shooting. His wife and two teenage children were wounded.
Since last September more than 30 Israelis have lost their lives in Palestinian attacks.