Eleven weightlifters, including six medalists, retest positive from London 2012
Comments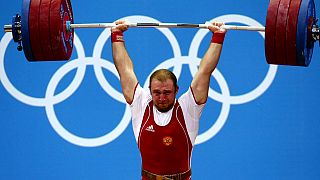 The International Weightlifting Federation has announced that 11 weightlifters, including six medalists, have tested positive in retests on samples taken at the 2012 London Olympics.
Four Russians are involved including the 94kg class silver medalist Alexander Ivanov.
Iryna Kulesha from Belarus, bronze medalist in the 75kg category has also been suspended.
Natalia Zabolotnaya lifting 131 kilograms over her head pic.twitter.com/M5KUqD8uTB

— iron group (@Wakrag_iron8) October 18, 2014
So far, 31 of the 98 doping positives discovered in the retests of samples from the 2008 Beijing Games and the 2012 London Olympics have been weightlifters.
The three other Russians are Nataliya Zabolotnaya, silver in the women's 75-kilogram category.
Svetlana Tzarukaeva, silver in the women's 63-kilogram division
Andrey Demanov, placed fourth in the men's 94-kilogram class.
European Weightlifting Championships: Andrey Demanov—Grit and Gold http://t.co/XeMILOKDQ3http://t.co/PErdMAVpZApic.twitter.com/RRYOM9omTb

— Randall Strossen (@ironmind) April 12, 2014
The others are Hripsime Khurshudyan from Armenia the bronze winner in the women's over 75-kilogram division.
Cristina Iovu of Moldova who won bronze in the 53-kilogram category.
Also testing positive were Turkey's Sibel Simsek, Almas Uteshov of Kazakhstan, Georgia's Rauli Tsirekidze and Intigam Zairov of Azerbaijan.