UK and Ireland keen to preserve Common Travel Area after Brexit
Comments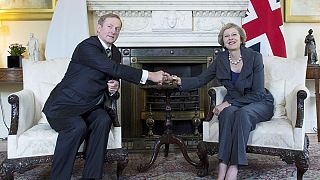 The heads of government from the United Kingdom and Ireland say they are both keen to preserve the common travel area between the two countries despite the UK's upcoming exit from the European Union.
Irish Prime Minister Enda Kenny has said that while Ireland's future lies within the EU, its strong and close relationship with the UK will remain.
The common travel area dates back to 1923.
"We benefitted from a common travel area between the UK and the Republic of Ireland for many years before either country was a member of the EU," Theresa May said at a joint news conference. "There is a strong will on both sides to preserve it and so we must now focus on securing a deal that is in the interests of both of us."
"We are in full agreement that we do not wish to see any return to the borders of the past on the island of Ireland," said Enda Kenny
Visiting Belfast on Monday, May said she does not want to see a return to border controls between The Republic of Ireland and Northern Ireland.
The future of that frontier is unclear and could be complicated because it would be the UK's only land border with the EU.
.