Deadly knife attack in Japan leaves 19 dead at a care home for the disabled
Comments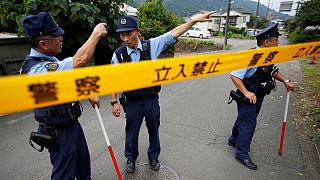 At least 19 people have been killed and another 26 injured some of them seriously at a residential care centre for the disabled in Japan.
The attack happened in the early hours of Tuesday morning in the town of Sagamihara 40 km south west of Tokyo.
26 year old charged in one of the most brutal stabbing attacks in post war Japan: 19 dead & 25 injured – Walter Sim https://t.co/5pXiRAxWU0

— Jean de Fondaumière (@waugoola) July 26, 2016
A man entered the facility wielding a knife – police have described him as a 26-year-old former employee who later turned himself in at a nearby police station.Witnesses said he had declared "he wanted to rid the world of disabled people".
Eight staff were on duty at the time at the centre which houses 149 permanent residents with a wide range of disabilities.
The incident has been called Japan's worst post war mass killing.
Chief Cabinet Secretary Yoshihide Suga told a news conference that police had not obtained any information to suggest there was a link between the attack and Islamist extremism.
Such mass killings are extremely rare in Japan and typically involve stabbings, due to Japan's strict gun laws.
Eight children were stabbed to death at their school in Osaka by a former janitor in 2001. Seven people died in 2008 when a man drove a truck into a crowd and began stabbing people in Tokyo's popular electronics and "anime" district of Akihabara.
A revision to Japan's Swords and Firearms Control Law was introduced in 2009 in the wake of that attack, banning the possession of double-edged knives and further tightening gun-ownership rules.