The four attacks in one week that have shocked Germany
Comments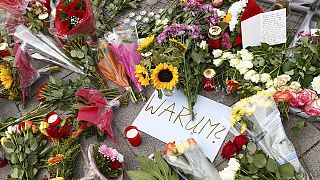 Four attacks in the past week have put Germany in a state of high tension.
While these deadly incidents are not on the same scale as those witnessed recently in France – in Paris last November and in Nice earlier this July – their public nature and the fact they have occurred in such quick succession and have targeted civilians have brought concerns over security to the front of people's minds.
The motives of each attack appear to differ differ, as do the weapons used.
Here are the facts we do know about the four attacks to have struck Germany in the last 7 days.
July 18: four people seriously wounded in a knife attack in a train in Bavaria
A man wielding an axe and a knife attacks passengers on a regional train from Treuchtlingen to Würzburg at around 21:15 local time. Four people, all Hong Kong citizens, are seriously wounded while one other person is slightly injured and a dozen more were treated for shock. The attacker gets off the train at Heidingsfeld but is shot dead by police who happened to be in the area on another, unrelated mission.
The following day the propaganda arm of ISIL claims the attacker was one of their followers. He is identified as 17-year-old Afghan refugee Riaz Khan Ahmadzai, who arrived in Germany as an unaccompanied minor in 2015. Having originally stayed in a refugee centre in Würzburg, he had spent the previous two weeks in a family foster home. During a search of his room, police found a hand-painted ISIL flag and a letter written in Pashtun and Arabic and addressed to his father in which he promises "revenge against the infidels."
Ahmadzai had not previously been on the radar of intelligence services and Bavarian State Criminal Police official Lothar Köhler has said that there no signs he had been radicalized until very recently.
July 22: nine people killed in a shooting in Munich
At 17:52 local time a man armed with a Glock automatic pistol opens fire outside a McDonalds restaurant near the Olympia shopping centre in Munich. He continues shooting inside the shopping centre but is found dead by police, who say the attacker had shot himself in the head. In total nine people died and 27 were injured in the attack and ensuing panic, although only four of the injured were struck by bullets.
The gunman was identified by police as David Ali Sonboly, 18, who was born in Munich to Iranian parents.
Police also say he had been planning the attack for a year and had visited the site of a 2009 school shooting in Winnenden to take photographs. Munich prosecutors say Sonboly had spent two months at a mental health facility in 2015. He was also said to be interested in first-person shooter video games. It is not thought any of the victims were known to the attacker and investigators have found no suggestions of a political motive.
A 16-year-old Afghan friend of Sonboly has been arrested by Munich police in connection with the shooting; investigators suspect him of having prior knowledge of the attack but failing to report it.
July 24: one dead, two injured in a machete attack near Stuttgart
A man kills a woman with a machete in a fast-food restaurant in Reutlingen, near Stuttgart. The attack took place at around 16:30 local time. Two other people are injured.
The suspect is reported to have worked at the restaurant with the victim and is said to have been arguing with her immediately before attacking her.
Police confirmed the arrest of a 21-year-old Syrian refugee, without releasing his name.
A police statement read that there is no evidence the attack was an act of terrorism and that they considered the suspect a "lone operator."
Colleagues of the suspect say he had arrived in Germany from Syria around 18 months previously.
July 24: an explosion in Bavaria kills one and injures 12
A bomb explodes outside a restaurant in Ansbach, Bavaria at around 22:00 local time, near the site of a music festival.
The only person killed is the bomber himself, a 27-year-old Syrian would-be refugee who had arrived in Germany in 2014 but whose asylum request had been rejected. He was still residing in Ansbach awaiting deportation, probably to Bulgaria, according to the Interior Ministry.
Investigators believe the man had tried to enter the music festival venue but had been denied as he had no ticket. 12 people were injured in the explosion, one of whom was described as being in a "serious" condition.
Bavarian officials say Islamist videos, what they described as "Salafist content", were found on the bomber's mobile phone.