Scotland's Sturgeon wants independence vote to remain an option
Comments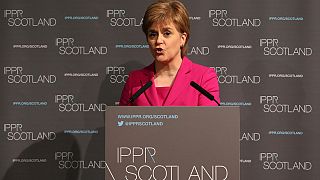 Just a month after the UK's Brexit vote, Scotland's first minister has reaffirmed her intention to keep the northern country inside the European Union. Her speech came as UK Prime Minister Theresa May once again confirmed Britain's intention to leave the bloc.
Nicola Sturgeon said the option of Scotland's potential secession from the UK should remain on the table.
"The UK that we voted to stay part of in 2014, a UK within the EU, is fundamentally changing. The outlook for the UK is uncertainty, upheaval and unpredictability. In these circumstances, it may well be that the option that offers us the greatest certainty, stability and the maximum control over our own destiny is that of independence," she told an audience in Edinburgh.
She said preparatory work on independence from the UK was due to begin.
Meanwhile, new Prime Minister Theresa May was in Northern Ireland in an effort to allay fears the outcome of the EU referendum would have a negative impact on the peace process.
The majority in both Scotland and Northern Ireland backed remaining in the EU. However, a recent poll suggests the Scottish electorate does not want a second vote on independence from the UK.