Germany increases security at railway stations and airports
Comments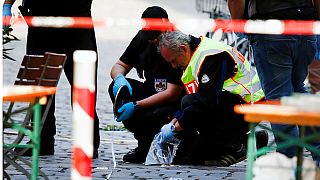 Germany's interior minister says he has ordered increased security at airports and train stations after four violent attacks in less than a week.
Thomas de Maiziere told reporters that random low-profile checks would also be carried out in border areas.
"Each of these cases is one too many," said de Maiziere. "I understand, that many people are unsettled and worried. I can assure you: our state is strong and will remain strong, on a federal level as well as on a regional level. Our security agencies are well prepared. They will continue to do whatever is necessary to ensure, that this kind of act will not happen again."
De Maiziere said people should not change their behaviour following the attacks, but should remain cautious.
An interior ministry spokesman had earlier said the threat of further attacks in Germany remained high.
Meanwhile authorities in Bavaria say a 16-year old arrested on Sunday met up with the 18-year old gunman who killed nine people in Munich just before Friday's attack.
The two teenagers got to know each other last summer while undergoing psychiatric treatment, according to senior public prosecutor Thomas Steinkraus-Koch.