Blood on the streets of Germany: four attacks in eight days
Comments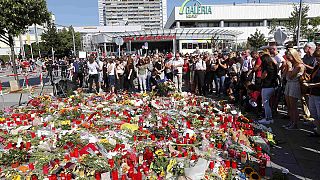 An axe, a gun, a machete, and a bomb: all weapons used on the streets of Germany over the past week.
Eight days, four brutal and bloody attacks. The highest death toll was at a Munich shopping centre, where a teenager shot and killed nine people on Friday.
The day after the Munich shootings, which came just a week after a truck attack in Nice that killed at least 84 people, German Interior Minister Thomas de Maziere implored people not to jump to conclusions.
"I understand that many people are particularly troubled by the attacks in Nice, Wuerzburg and now Munich happening so close together. I am too. But we must investigate and evaluate the background, the circumstances and the motives of each attack individually," he said.
Yet, apart from the Munich, all the other attacks were perpetrated by refugees or asylum seekers – an axe assault on a train in Wuerzburg, a machete killing in Reutlingen and a bombing in Ansbach.
Germany has welcomed thousands of Syrians, Iraqis and Afghans since Chancellor Angela Merkel announced an open door policy on refugees last Autumn.
The main gateway for many of the refugees and migrants coming into Germany is the state of Bavaria – where three of the recent attacks took place.
The Bavarian government says the number of refugees coming into the country has to be capped.
"We will continue to strongly call for limits – politically, possibly also legally, and we are urging for an end to the grave mistakes made in Berlin," said Bavarian Minister-President Horst Seehofer in January.
Chancellor Merkel has repeatedly defended the policy of openness towards people fleeing violence and tyranny – believing Europe should help provide as much refuge as it can.
"It is important that we don't follow those, who with coldness, even hatred, in their hearts, lay claim to a Germany that is for them alone, while trying to exclude others," she said in January.
But for critics of Merkel's views – such as the anti-Islam movement Pegida, and the anti-EU Alternative for Germany party – the tragedies of the last week can be used to bolster their arguments that her policy is failing … with fatal consequences.
---
In this interview, Euronews speaks to Middle East expert Dr. Simon Mabon about the impact of the latest violence in Germany on European attitudes to refugees and migrants.
Nial O Reilly, EURONEWS
Joining us now for more on the terrorism threat faced by Germany and other European powers is Simon Mabon, an expert in Middle Eastern extremism and politics.
Dr. Mabon, thanks for joining us. There has been an upsurge in attacks by migrants in Germany, notwithstanding last Fridays attack that does not seem to be in the same category, but are groups like PEGIDA in Germany justified in claiming migration is a threat to security and stability in their country?
Dr. Mabon
I think it is a really important question that we need to engage with and I think that in light of what has been happening in recent months, there is clearly a massive increase in tensions with a whole host of different identities across Germany and across Europe more broadly. The influx of people from Syria, from Iraq, from across the Middle East, from Libya, has caused a whole host of different challenges for European states across the board. It has challenged their identities, their economies, the very societal security on which many of these states are predicated and so we start to see groups like Pegida pushing back against some of these migrant groups, trying to reclaim what they see as their inherent national identities and this is often taking quite a violent stream, and this has often ended up in attacks. Of course, migrants are fleeing a conflict zone, they are fleeing persecution, death, huge levels of structural discrimination that has been taking place in their homelands. So they are in real periods of uncertainty and it is this uncertainty that breeds chaos and ultimately breeds violence. Making sure that people feel more comfortable in their identities and their homes and how they relate to one and other, that is really integral if we are actually going to move forward to try to prevent future attacks.
Nial O Reilly
It is clear at the moment that countries in Europe are being targeted by groups like IS and AL qaeda. France has born the brunt of these large scale attacks. But how do they regard Germany as a potential target?
Dr. Mabon
You are right about France and that is in part because of the huge indigenous Muslim population that is there coupled with the large number of attacks that have taken place on Dhaesh/ISIS soil. But I think with Germany, the case is slightly different. What ISIS/Dhaesh is trying to do is they are trying to cause a great deal of fear, or consternations and tensions and to play out this narrative of Dar al-Islam against Dar al-Harb, the idea of Islam against the world. Now that involves targeting as many people as possible, it does not matter if it is France or Germany, they will try and strike. Now if we make people more comfortable, if we make sure that migrants that come here feel more secure, after all they are people. If we make them feel more secure in their identities, if we give them the protection the need, then chances are there is a good opportunity to prevent further attacks from taking place.