Bernie Sanders supporters threaten to spoil Hillary's nomination party
Comments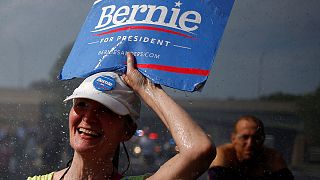 The US Democratic Party is in turmoil as the convention to nominate Hillary Clinton as their presidential candidate gets underway today in Philadelphia.
Supporters of her rival Bernie Sanders are threatening to disrupt the convention in a row over leaked emails appearing to suggest that party insiders had tried to scupper his nomination campaign.
If BernieSanders</a> repudiates the Democratic Party that betrayed him, I&#39;d welcome him into <a href="https://twitter.com/GreenPartyUS">GreenPartyUS to continue the revolution. #DNCleak

— Dr. Jill Stein (@DrJillStein) July 23, 2016
Hundreds of "Bernie" supporters took to the streets on Sunday to give their backing to Sanders even though he has already endorsed Clinton and is due to speak on her behalf to the convention on the first day.
"He reached the young folks and people who have been you know kind of lapsed in the political arena, and he's got the message that we all want," said one Bernie Sanders supporter.
"Democratic party's been colluding with Hillary and they're just not being Democratic or fair or gave Bernie a chance… we're here to show support for him," said another.
Debbie Wasserman Schultz announces resignation as Democratic chair on eve of convention https://t.co/X9snAnMdK6

— The Independent (@Independent) July 24, 2016
The row has triggered the resignation of the party's chairwoman Debbie Wasserman Schultz who says she'll quit at the end of the convention.
It's also come as a blow to a party keen on projecting stability and unity in contrast to last week's Republican convention when Donald Trump was nominated as their presidential candidate.