Syria: hospitals targeted in besieged eastern Aleppo
Comments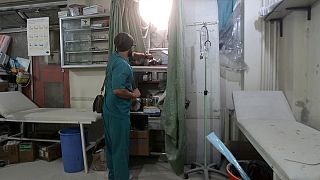 Four hospitals in besieged eastern Aleppo have reportedly been hit by air strikes.
Syrian forces dropped 10 naval mines on the al-Shaar neighbourhood in the east of the city on Saturday, according to reports from opposition activists.
A two-day-old baby was killed, according to the Independent Doctors' Association, a group of Syrian doctors that supports clinics in the city.
The total number of casualties in the area is not yet known.
However, the Local Coordination Committees of Syria, a network of activists monitoring the war, said 121 people were killed in strikes carried out by Russian and Syrian forces on Saturday – 57 of whom died in Aleppo.
Four hospitals and blood bank struck by Bashar/ Russia bombs in Aleppo. Via SyriaCivilDef</a> <a href="https://t.co/AdzSRz4JRV">pic.twitter.com/AdzSRz4JRV</a></p>&mdash; Borzou Daragahi (borzou) July 24, 2016