Mourners pay respects at scene of Munich shooting rampage
Comments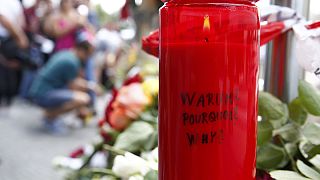 Mourners have been laying flowers and lighting candles at the scene of Friday's attack in Munich.
A makeshift shrine was growing by the hour, as people struggled to comprehend the horror of what happened.
Turkey's foreign minister said three Turkish citizens were among the nine people killed, while Greece's foreign ministry said one Greek was among the dead.
According to media reports, there were also three Kosovo Albanian victims.
Kosovo's foreign minister was among those paying their respects at the scene on Saturday.
"I've come to Munich to express my condolences to the families, relatives and friends," said Enver Hoxhaj.
"I've also come to Munich to show that Kosovo is mourning together with the German citizens in these difficult days – and that we stand by Germany."
Munich pulls together after shopping mall shooting – SP_Morgan</a> reports for <a href="https://twitter.com/AFP">AFPhttps://t.co/wLFnOF6X1p#MunichShooting

—

AFP

news agency (@AFP) 23 July 2016
One man at the scene said his son, a Kosovan, was one of the nine people gunned down.
"That was my son. 21 years old. I am his father," said Naim Zabergja, as he showed a picture.
Most of the victims were teenagers, three of them fourteen years old.
One woman, Erika Fischer, said her young Turkish neighbours are among the dead.
"The two boys who lived next to us were shot here last night and died at 2.30, 3 a.m. Tragic, terrible. 15 years," she said.
The shooting rampage here in Munich the third attack against civilians in Western Europe in eight days.
Who were the Munich shooting victims? Eight of nine dead under 20-years old https://t.co/EdPvgBG1WA

— The Guardian (@guardian) 23 July 2016