Man attempts to steal Olympic torch continuing the troubled build-up to Rio Olympics
Comments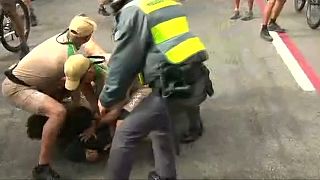 Problems continue to mar the build-up to the Rio Olympics.
The Brazilian leg of the torch relay has been plagued with embarrassing incidents.
In June a Jaguar that had been used as a mascot was shot and killed by the army in Manaus, while earlier this month a protester was arrested after he tried to extinguish the Olympic flame.
This weekend a man jumped out of the crowd in Sao Paulo and attempted to steal the torch.
He was quickly wrestled to the ground and arrested.
On Sunday Rio organisers suffered another headache Australia announced they are refusing to move their athletes into the Rio Olympic Village due to concerns over the poor state of their accommodation.
"Blocked toilets, leaking pipes and exposed wiring" were some of the reasons for their decision.
The first wave of Aussie athletes are due on Monday and for now alternative accommodation for team members has been arranged.
The first Olympic Games to be held on South American soil begin on August 5.