Ten dead after Munich shopping centre shooting, including suspect
Comments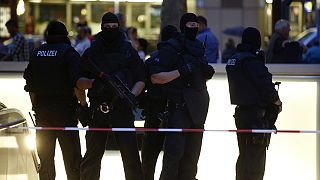 Ten people have been confirmed dead after a shooting at the Olympia shopping centre in Munich, southern Germany, according to police.
Police say the suspected gunman, who is now believed to have acted alone, is among the dead. He is understood to have committed suicide and his body was found close to the shopping centre.
Earlier, police said they were looking for up to three suspects.
An employee at the shopping centre told the Reuters news agency "many shots were fired".
No details have emerged on who was behind the shooting and no one has claimed responsibility.
"We believe we are dealing with a shooting rampage," police said adding no one is in custody but they suspect "a terror attack".
The police tweeted that a major operation is underway and advised people to avoid the area.
Munich, Germany's third largest city, was placed under a state of emergency as police hunt the attackers.
It is the third major act of violence against civilians in Western Europe in the past eight days.
On Friday a 17-year-old asylum-seeker wounded passengers on a German train with an axe while on July 14 a Tunisian drove a truck into crowds, killing 84 people, during Bastille Day celebrations in Nice.
Islamic State claimed responsibility for those attacks.
A police spokesman in Munich said there was no immediate indication that it was an Islamist attack but it was being treated as a terrorist incident.
Live updates
Munich Transport Authorities say they have halted service on multiple train, tram and bus lines and the German rail operator said the main railway station in Munich has been evacuated.