Motorcycle hero of Nice: 'I was ready to die'
Comments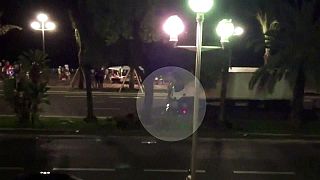 Footage of a motorcyclist risking his life to stop the Nice truck attack was seen all over the world.
It hurts a bit everywhere, even morally. But it'll be alright. It'll pass with time perhaps, perhaps not.

Nice truck attack motorcycle hero
The man in the video was hailed as a hero. It was believed he had fallen beneath the wheels or was shot, but the Frenchman, a local airport worker in his 40s is alive and well, and has given his first interview. He gave only his first name, Franck.
"I wanted to go see the fireworks, we were late and we missed it. But I said to my wife 'let's go and have some ice-cream on the promenade'.
As they went to get ice cream they saw people heading back from the beach after watching the Bastille Day fireworks display.
"Then I saw the truck overtake me on the pavement on my right. He must have been going 80 maybe 90km/h, I don't know. It happened very fast.
"I saw people flying around the place, people hit by the truck, and he was swerving from the pavement on to the road. He was half on the pavement, half on the road.
Then his thoughts turned to his son.
"I knew my son was at Place Massena, at the end of the Promenade des Anglais. And then I started chasing the truck with my wife behind me.
He described being 'in a trance but lucid' as he went after the truck.
"I wanted to reach the steering wheel to stop the truck. I started hitting him with all my powers, I hit his head, his head, his head, his body, I hit, and I want to get him out of the truck. I didn't manage to, and I was face to face with him.
"He had a gun in his hand. I had the impression that he was reloading his gun, but it didn't work. He tried to shoot me but it didn't work. His look was cold."
"No emotion," the journalist asks.
"No. At one stage he hit me on the head with his gun. I got off the truck, and straight away got on again and started hitting again and again, and I kept going, anyway I was ready to die. I was ready to die."