Torrential rain causes floods and havoc across China
Comments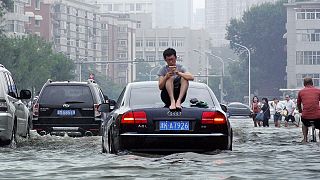 Torrential rain across China has caused dramatic flooding in hundreds of towns and trapped many local residents.
In the capital Beijing where roads became rivers, metro stations were closed and hundreds of flights were cancelled.
Rainstorms are common in the city during the summer. Four years ago 37 people were killed.
In the northern Hebei province one person was killed and eight were missing after the heaviest rainfall for 20 years.
Roads were damaged, local power supplies and communication networks disrupted.
Dozens of soldiers were called upon to repair a highway using heavy equipment.
More than 200 local villagers were evacuated as many places still had a high risk of landslides.
People have been told to prepare for possible further floods, landslides and mudslides. Those living in mountainous areas have been advised to move to safer zones.
A red rainstorm alert – the most serious – has been issued; more heavy rain was due to hit the region.
In the southwest Guizhou province there was drama on Tuesday when three people were rescued after becoming trapped by the floods.
The operation to winch them to safety from trees where they had taken refuge took 90 minutes.