Turkish MPs on the front line as video of parliament bombing emerges
Comments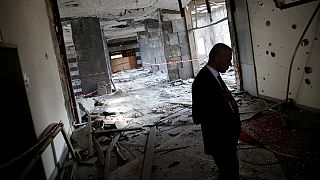 The moment when the Turkish parliament was hit by the first of several bombs during Friday's nights abortive coup attempt was captured by one MP on his mobile phone. Lawmakers were in session at the time
The images convey the force of the blast and give an idea of the destruction.
Despite the damage MPs have quickly resumed work and on Tuesday, during a round of political party meetings, some had tales to tell.
AK Party member Ayse Kesir said the blast brought back memories:
"All of a sudden the General Assembly hall filled with smoke . One gets used to clashes and killings, I learnt that as a child. This is what growing up with coups felt
like."
The aftermath at the Parliament building in #Ankara via rifatbasaran</a> <a href="https://t.co/m2epp56DbK">pic.twitter.com/m2epp56DbK</a></p>&mdash; Carl Nasman (CarlNasman) July 16, 2016
Ozgur Ozel who is a CHP member said despite being frightened most MPs decided to stay in the Assembly Hall:
"At the time when the Justice Minister was speaking, the first bomb hit the parliament. It was broadcast live on TV so It would been bad if we shut down the parliament after the bombing. So, we said we would stay."
"At one point, I placed a bet with a colleague of mine on our chances of survival. I am more optimistic so I said 51 percent, he said 49. That is how distressed we were."
Bomb reportedly thrown at Turkish Parliament in Ankara https://t.co/prTIH7qaSypic.twitter.com/o8W6Zv5cjH

— BuzzFeed News (@BuzzFeedNews) July 16, 2016
For MPs it's business as usual. After cabinet and security meetings today (July 20), government sources say President Erdogan will unveil new measures to parliament that will speed up the prosecution of coup plotters.