Turkey's post-coup purge: the numbers
Comments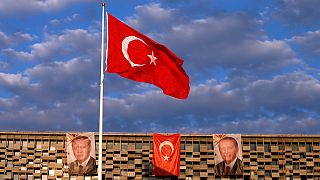 The round of purges continues in Turkey, as the government vows to root out supporters of the exiled cleric it blames for Friday's attempted coup.
After the military and judiciary, the crackdown extended to universities and schools, the intelligence agency and religious bodies.
On Tuesday, authorities said 15,000 people had been fired from the education ministry, and 21,000 private school teachers had their licenses revoked.
Several media outlets thought to be supportive of Fethullah Gulen were also shut down.
Turkey's coup in numbers
21,000 private teachers have licences removed
15,000 suspended from education ministry
8,000 police officers detained or suspended
6,000 soldiers detained
1,500 staff at Ministry of Finance dismissed
2745 judges dismissed
1,577 deans – Education board demands resignation
492 sacked from Religious Affairs Directorate
399 from Ministry of Family and Social Policies stripped of responsibilities
257 fired from the prime minister's office
100 intelligence officials sacked
47 district governors dismissed
30 provincial governors dismissed
20 news websites blocked