Turkey ups pressure on Greece to extradite soldiers who fled there after failed coup
Comments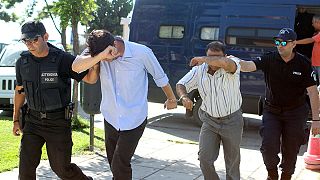 Turkey says eight of its soldiers who fled to Greece after Friday's attempted coup are "traitors" who must be handed back.
The Turkish ambassador to Athens said on Tuesday that not extraditing them would harm diplomatic relations between the neighbouring countries, which have long been uneasy.
The soldiers have already started procedures to seek political asylum in Greece. They were registered near the northeastern city of Alexandroupolis.
One of their lawyers, Vassiliki Ilia Marinaki, said the men feared for their lives: "They said that they are afraid of the death penalty or torture if they go back to Turkey."
Turkey's ambassador to Athens, Kerim Uras, said the soldiers would have a fair and transparent trial back home.
They already face trial in Greece on Thursday for entering the country illegally. They have denied involvement in Friday's failed coup, saying their helicopter had been used to transport wounded and had come under fire from police, at which point they fled fearing for their lives.