Muslims mourn their dead after Bastille Day truck attack in Nice
Comments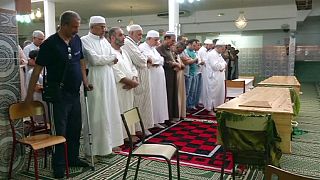 All 84 people killed in the Bastille Day truck attack in Nice have now been identified.
Around 30 of them were Muslim including Franco-Tunisian Olfa Khalfallah and her four-year old son Kylan. Before their burial in Tunisia, they and a third victim were mourned at a mosque in Nice.
Among those present at Tuesday's memorial service was Kylan's grief-stricken father, Tamar Mejri.
"I only found my wife, on the ground, not moving, not talking, not doing anything: she was sleeping. I stayed with her all night until ten o'clock in the morning," he said.
"And like a lunatic, I looked for my son from one hospital to another. I asked everywhere, I telephoned everywhere, even to Paris, even to Marseille and there was no sign of my son. There was a woman who had seen the firefighter who carried him away. I asked her: 'For Pity's sake, tell me if my son is alive or not? I want to know. Tell me!' Now I am happy. I know where my son is. He is with God."
Imam, Abdelkader Sadouni, was also visibly moved.
"A four-year-old boy has died," he wept.
"A four year old boy…It is his first time in a mosque and he entered in a coffin. So, please, stop. Stop it all. Everyone is grieving. Everyone is suffering. Let's stop the speech that spreads hatred. Lets stop speech that stirs up trouble."
As the Promenade des Anglais reopened fully for the first time since Thursday's bloodshed, claimed by ISIL, the French parliament began moves to extend the country's state of emergency, which gives police greater search and arrest powers, for up to six months.
#NiceAttack Woman stands by makeshift memorial in tribute to victims of deadly Bastille Day attack @ValeryHache#AFPpic.twitter.com/uF6yrlvoYt

— AFP Photo Department (@AFPphoto) 19 juillet 2016
#NiceAttack Makeshift memorial in tribute to the victims at the Promenade des Anglais #AFP Photo by @ValeryHachepic.twitter.com/9DXZRWNkjD

— AFP Photo Department (@AFPphoto) 19 juillet 2016
French authorities remain vigilant.
A driver on a watchlist of people suspected of posing a security risk has just been taken into custody near Paris. Authorities say that sticks of dynamite, cables and detonators were found at his home as well as a picture of the ISIL flag on his mobile phone.