French leaders jeered during tribute to Nice victims
Comments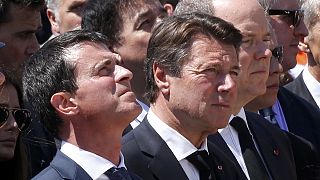 Shouts of "where were the police" rang out as crowds jeered France's Prime Minister during a tribute to victims of last week's truck attack in Nice.
Manuel Valls had come to the south coast city to pay his respects but was shown that confidence has dropped in his government's ability to combat terrorism.
Every six months are we going to mourn for more dead? Today in Nice, it was in Paris not too long ago

Resident of Nice
VIDEO: Crowds in Nice boo French PM who said France must "learn to live with" terror attacks. https://t.co/8zHGPysDb5

— Paul Joseph Watson (@PrisonPlanet) July 18, 2016
"Whistles, insults are unworthy in a remembrance ceremony. They are unworthy when there is a tribute to the victims at the same time when victims are still struggling for life," responded French Premier Manuel Valls after the ceremony in Nice.
There have now been three attacks in France in the last 18 months some people are critical of the government's efforts to protect them.
An opinion poll published in Le Figaro newspaper showed that 33 percent of respondents were confident in national leaders' ability to fight terrorism, down sharply from confidence levels of at least 50 percent in the wake of two major attacks last year.
One Nice resident said he didn't think the government had the right answer: What have they done up until now to make us feel safe? And yet what do we expect? Every six months are we going to mourn for more dead? Today in Nice, it was in Paris not too long ago and it'll carry on like that."
Another said he didn't understand people: "I'm not sure what they are thinking. The Government can't control everyone. It's impossible. In Italy, it is the same thing. A crazy man, that's not something you can stop."
The timing of the Nice attack may mark a turning point in French solidarity. With both presidential and legislative elections due next year, competing politicians are now openly apportioning blame and claiming to be tougher then the government on terrorism.
Nicolas Sarkozy has led the calls for tougher measures.
"Je souhaite que les préfets soient autorisés à fermer tout lieu de culte ayant un lien avec le salafisme" https://t.co/0ftAjz73Zf#NS20H

— Nicolas Sarkozy (@NicolasSarkozy) July 18, 2016