US-Turkey friendship 'could be questioned' over cleric extradition
Comments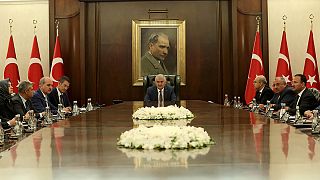 Emotions continue to run high in Turkey after Friday's failed coup, not least for the prime minister.
Visibly moved during a news briefing in Ankara, premier Binali Yildirim recalled a question put to him by his grandson: "Why are they killing people?"
Still smarting from the coup attempt, the Turkish leadership has hinted its friendship with the US could be at stake if Washington fails to extradite US-based Islamic cleric Fethullah Gulen, who denies involvement in the coup.
The US says it is prepared to extradite Gulen but only if Turkey provides evidence linking him to crime.
Yildirim has rejected that demand.
"We would be disappointed if our (American) friends told us to present proof even though members of the assassin organization are trying to destroy an elected government under the directions of that person," he said.
"At this stage there could even be a questioning of our friendship."
PM says Turkey may question friendship with US over extradition of Gülen https://t.co/zpevKw3zogpic.twitter.com/YgOMXARtb8

— Hürriyet Daily News (@HDNER) 18 juillet 2016
Yildirim said that 232 people were killed in Friday night's violence, 208 of them civilians, police and loyalist soldiers, and a further 24 coup plotters. Officials previously said the overall death toll was more than 290.
More dramatic footage has emerged of the revolt aimed at toppling the Erdogan administration.
Turkey's Intelligence Agency has released surveillance camera footage of a gun battle as its main headquarters in Ankara came under attack on Friday by rebel helicopters.
Footage shows the moment of attack on Turkish intel HQ https://t.co/WnUWpzXGLxpic.twitter.com/ivbidOy6Hq

— Hürriyet Daily News (@HDNER) 18 juillet 2016