Attack in Nice: eyewitnesses recount terror
Comments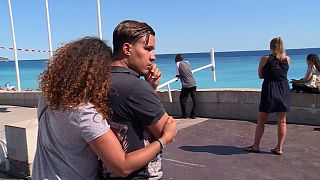 France has yet to awaken from the nightmare of Thursday's attack in Nice.
Hundreds of bouquets and tributes line the Promenade des Anglais as the country continues three days of national mourning.
"There's a lot of sadness and tears. But we can't stop. We need to carry on," one woman said.
Another Nice resident said: "It could have been me, it could have been my daughter who's 21, that evening she didn't go out she told me, I don't fancy going out, she was meant to be there. She didn't go out. These people destroyed, these families. What life will they have tomorrow?"
Dramatic CCTV footage has also now emerged from one bar on the seafront during the moment of the attack. The bar's owner spoke of the panic as people ran for cover, many carrying children.
"We tried to bring everyone inside. Everybody was running from all over place. On peoples faces, in their eyes I saw terror," said bar owner Sherazade Giraud.
Many residents witnessed events in the southern French city remain in shock – struggling to come to terms with Thursday's carnage.
"Believe me, the scenes stop me from sleeping. For two nights, since that evening, I haven't slept. When you close your eyes for five minutes, the images just flash back again,'' eyewitness Houssem Bounouiga said.