Anger as search for missing relatives in Nice continues
Comments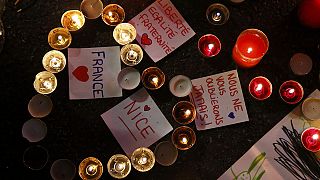 For two days Tahar Mejri searched the hospitals of Nice for his missing son, having already lost his wife Olfa.
Then, after waiting at the Pasteur II hospital for many hours, a team of psychologists came to tell him what he'd feared most: four year old Killian was dead.
Many relatives of those who are still missing after the Bastille Day truck attack are growing angry at what they believe is the authorities' slow response.
By 1pm in Nice on Sunday only 35 of the 84 victims who lost their lives had been formally identified.
"We ask, we ask, we ask. We're crying out for news. It's not hard, there are photos. It's not hard. Stick up an A4 photo with the names, you could, with the names, their features it's not hard," said Ines Jyger, who lost both her grandaughter and daughter in the attack.