ISIL claims responsibility for Nice truck attack
Comments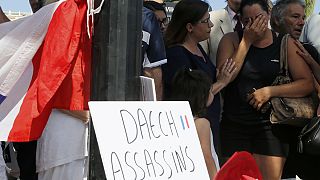 Police still don't know how Mohamed Lahouaiej Bouhlel managed to get access to the Promenade des Anglais and plough a rented truck through dozens of people celebrating Bastille day.
And they also don't yet know what inspired the 31 year old Tunisian man to contemplate such an extreme act of hate. Neighbours said he was not outwardly religious nor did he visit a mosque.
In a statement released online on Saturday ISIL claimed responsibility for the attack describing Bouhlal as one of its "soldiers".
"He carried out the operation in response to calls to target nationals of states that are part of the coalition fighting Islamic State, the statement said.
Police have arrested three more people in Nice and the focus is now on the five individuals who remain in police custody including Bouhlel's ex wife.
But so far the Paris prosecutor says no links have been found between Bouhlel and any Islamic extremist groups.
At the Promenade des Anglais, which is now open again, people have been laying flowers and other tributes to the victims.
As France mourns there are still many unanswered questions.