World leaders condemn Nice attack
Comments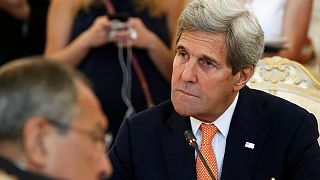 Leaders from around the world have been voicing their outrage over the truck attack in Nice which killed at least 84 people.
Russia knows what terror is

Russian president
The French prosecutor said it has every indication of being an Islamic extremist attack.
"We certainly join with you in expressing our absolute abhorrence for the incredible carnage that took place in Nice yesterday. The problem is that you and I and other foreign ministers and leaders of countries, we now are doing this almost on weekly basis."
Russia's president Vladimir Putin addressed French president Francois Hollande:
"Dear Francois, Russia knows what terror is and the threats it creates. Our people have faced such tragedies before, and our people are feeling grief for what has happened. They sympathize with the people of France and they show solidarity with the people of France.
And Britain's newly installed prime minister had this to say:
"I'm shocked and saddened by the horrifying attack in Nice last night. Our hearts go out to the French people and to all those who've lost loved ones or been injured. We must work with France and our partners around the world to stand up for our values and for our freedom."
In a tweet Pope Francis said he was praying for the victims.