France to extend state of Emergency - what does that mean?
Comments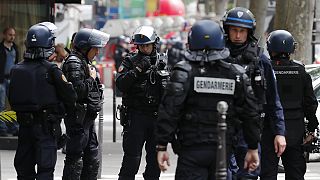 French President Francois Hollande has said the country's state of emergency will continue for another three months in the wake of the lorry attack in Nice which left more than 80 people dead and dozens injured.
The u-turn came only hours after he said it would not be extended beyond its existing July 26 end date.
Created in 1955 at the height of France's colonial war in Algeria, the nationwide security measure was put in place in the wake of November's attacks in Paris when 130 people were killed in coordinated gun and bomb attacks.
It had previously been extended twice to cover the Euro 2016 football tournament and the end of this month's Tour de France cycling race.
Despite a recent commission claiming that the state of emergency was only having a "limited impact" on improving security, the large number of armed police and soldiers patrolling French streets is unprecedented and covers the mainland as well as the country's remaining overseas territories.
The most visible change since the State of Emergency was introduced eight months ago has been the deployment of between 6,000 and 7,000 troops to sensitive sites, including schools, synagogues, department stores and other buildings seen as potential terrorist targets.
The emergency measure also gives France's security forces wide-ranging powers, including the ability to enforce house arrests of suspects considered a threat.
Local state representatives, Prefets, also have extra powers, such as the possibility to impose curfews, ban gatherings, close concert venues, bars and meeting halls. They can also dissolve associations, organisations or other groups deemed to''incite, facilitate, or participate in actions threatening public order.''
Several big open-air cultural events in France have already been cancelled since the State of Emergency came into effect and earlier this month, French officials announced there would be no victory parade on the Champs Elysees in the event of a French win against Portugal in the Euro 2016 final because of security concerns.
The extra powers have also been extended to France's external frontiers, with reimposed border checks. Francois Hollande said these would be further strengthened in light of the Nice attack.