US: Fresno police release body-cam footage of shooting of unarmed teen
Comments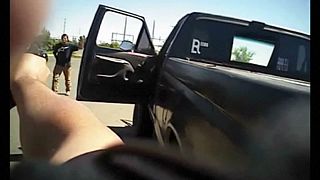 The Fresno Police Department has released body-camera footage of the shooting of unarmed suspect Dylan Noble.
In decisions that are this critical, you're not going to have everybody that supports it
Nineteen-year-old Noble was shot and killed on 25 June during a traffic stop by two unidentified police officers who thought he was armed, Fresno Police Chief Jerry Dyer told a news conference.
The newly-released video shows Noble ignoring commands to stand still and show his hands. He is shown saying "I hate my life" before walking towards the police officers, who shot him twice.
Noble is seen falling to the ground and, after continuing to move his hands, then shot two more times.
Fresno's police chief Jerry Dyer said that the officers believed the suspect was reaching for a weapon. However, according to reports, Noble was holding a plastic box.
Dyer said he hoped that the release of the body-cam footage would help people to understand the circumstances that led to the officers opening fire.
"In decisions that are this critical, you're not going to have everybody that supports it, not the officers, not the union. Perhaps not the family and maybe not even the community," he told a news conference.
"But I promise I will do the right thing in this investigation and I'm asking people to trust me to do that."
The shooting has sparked fierce protests, with critics of accusing "trigger-happy" police of taking the life of an unarmed young man.
#DylanNoble, a young 19 year old country boy with a promising future SHOT to death by Fresno PD WHERE is ALM? pic.twitter.com/FLltD7w5e6

— nae4prez (@neyshajasme) July 7, 2016
you're scared of an UNARMED white teenager?? we need justice for #DylanNoblehttps://t.co/08gGQ9O7e4

— T (@eastcoasthoe) July 7, 2016
Noble's father has said he believes that his son was "murdered" and his mother is seeking damages from the city for the shooting.