NATO and Russia: 'not a meeting of minds' over Ukraine
Comments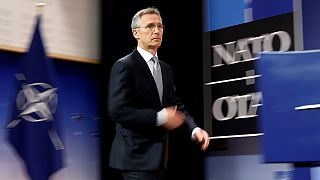 NATO and Russia are failing to see eye-to-eye over the crisis in eastern Ukraine, the alliance's Secretary-General Jens Stoltenberg says.
"There was not a meeting of minds today," he said of the situation in Russia's neighbouring country.
"Allies and Russia have profound and persistent disagreements on the crisis. (…) but it was an opportunity to clarify our positions and to exchange views on the crisis in Ukraine," Stoltenberg told Brussels.
The Kremlin has issued a statement saying President Vladimir Putin had asked Germany and France to use their authority to try to prevent the conflict from escalating.
Russia's ambassador to NATO again highlighted Moscow's view that the alliance's greatest modernisation in decades is putting Europe's security under threat.
"There is no reason to develop such military activity like we face today and what NATO is doing and, of course, we believe that it does not contribute to security so it's not about transparency. This is about the direction in which NATO is moving in military terms and this is very worrisome, very worrisome development," said Alexander Grushko.
Russia has offered to engage the transponders on its jets in the skies over the Baltic Sea – a compromise its hoped will reduce the risk of air accidents. NATO has agreed to consider the proposal.