Indiana Governor Mike Pence favourite for Donald Trump running mate
Comments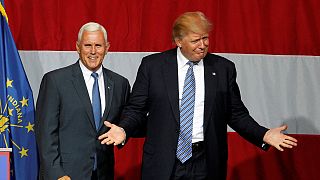 Donald Trump has entered the final phase of his high-profile search for a running mate, arranging last-minute meetings with contenders as his staff prepare for an announcement on Friday.
The tycoon himself is to be formally nominated for November's presidential election at the Republican National Convention next week.
US media are reporting that Indiana Governor Mike Pence has been named as his running mate. Trump met him this week and was reportedly impressed with his calm demeanour and experience on Capitol Hill and as a governor.
Trump has also considered former House of Representatives Speaker Newt Gingrich and New Jersey Governor Chris Christie as finalists.
Gingrich was spotted with Trump's entourage in Indiana on Wednesday.
But the name that's emerging is that of Pence, whose style is said to be far less "shoot from the hip".
Cleveland police have tightened their security measures in the city ahead of next week's Republican Convention following the shootings in Dallas.