Thousands attend Dallas vigil for slain police officers
Comments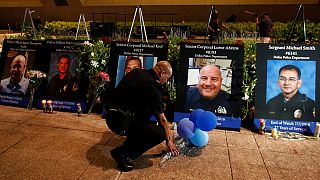 Thousands of people have attended a candlelight vigil outside the Dallas Police Department to honour the five officers shot dead during a protest over the killings of two black men.
Authorities have named former U.S Army Reserve solider Micah Johnson, a 25-year-old African-American, as the lone gunman in last week's sniper attack in the city.
He killed Lorne Aherns, 48; Michael Krol, 40; Brent Thompson, 43; Mike Smith, 55; and Hispanic officer Patrick Zamarripa, 32.
Smith's longtime partner on the beat urged Dallas residents to use him as an example to improve their city.
"I and those who loved Mike the most choose to honour his legacy by choosing – because it is a choice – not to let our anger to drag us into a darker place, but instead to we choose to continue Mike's fight for good and to not let the evil prevail," said Corporal Marcie St. John.
On Monday night, demonstrators took the streets again to protest over police shootings of black men. Thousands marched in several large US cities, including Atlanta, Sacramento and Chicago.