Dallas police chief received death threats
Comments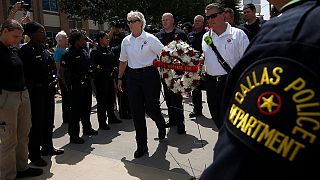 After a week of killings and confrontation across the US, police chiefs urged the public to adjust their expectations on Monday.
In Dallas where five officers were gunned down last week the city's police chief expressed frustration that officers were being asked to do too much.
David Brown also said he and his colleagues were on edge after receiving death threats.
''Yes, me and my family have received death threats almost immediately after the shooting…… there's a heightened sense of awareness of threats we've received all over the country,'' Brown said.
Amid ongoing nationwide protests for police reform following the deaths of several black men by white police officers, presidential hopeful Donald Trump weighed into the debate calling for an end to the hostility.
''America's police and law enforcement personnel are what separates civilization from total chaos and the destruction of our county as we know it…….It's time for our hostility against our police and against all members of law enforcement to end, and end immediately, right now,'' the presumptive presidential candidate said.
Barack Obama and former President George W. Bush are due to speak in Dallas later on Tuesday at an interfaith memorial service for the five dead police officers.