Party time in Portugal - thousands welcome home the Euro 2016 champions
Comments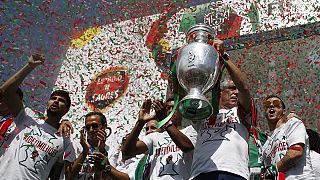 Portugal's victorious team has been given a heroes welcome on their return to Lisbon after becoming Champions of Europe. Even the country's President Marcelo Rebelo de Sousa was keen to show his appreciation and invited them to the Palace of Belem shortly after they had landed back in the country.
Retweeted mays lad (foofoo1445</a>):<br><br>What a welcome home for Portugal <a href="https://t.co/u6ATKGJpMA">pic.twitter.com/u6ATKGJpMA</a> <a href="https://t.co/6rj4DVXCnP">https://t.co/6rj4DVXCnP</a></p>&mdash; Vena (venasiusasiegbu) July 11, 2016
The crowds were delighted to welcome home the players, craning to get a glimpse of Ronaldo and … https://t.co/d4wUiE2A6eMailSport</a></p>&mdash; excel E.T (excelatm) July 11, 2016
After that thousands of jubilant fans packed the famous Pombal Square to cheer and wave at the squad as they paraded past in two open top buses.
Welcome Parade for the Champions of Europe. Cristiano</a> <a href="https://twitter.com/realmadriden">realmadriden#Euro2016Final#Portugalpic.twitter.com/0Y00wa8qWD

—

MOIRA

GALLAGA

(@moiragallaga) July 11, 2016
Once inside the main city's fan zone , star player Christiano Ronaldo, nursing an injured knee, took the microphone to thank fans for their support.
"This victory is all of yours, everyone here in Portugal, all those who live abroad . We deserve to make history in Portugal, we are the first to win an important competition for our country."
The party has been non-stop since Sunday night when Portugal beat Euro 2016 hosts France 1 – 0 in extra time.
As one supporter said – "after this it's the world cup in Russia."
Euro 2020
The next European Championships in 2020 will be held in thirteen cities in thirteen different European countries during the summer of 2020 (with the exact date to be announced later). Portugal will be the defending champions, having won the 2016 edition.
The idea is a one-off event to celebrate the 60th "birthday" of the European Championship competition.The winner will earn the right to participate in the 2021 FIFA Confederations Cup. Wembley Stadium in London will host the semi-finals and final of the tournament.